Homework Center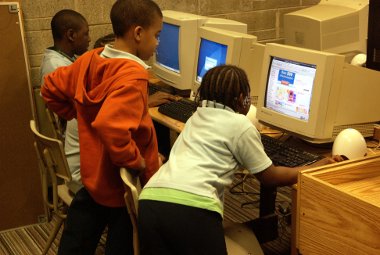 St. Thomas' Homework Center provides a safe and secure environment for 15-30 children in grades 3-8 to accomplish homework and to study with caring supervision. This program involves students from the Horace Mann Elementary School located across the street from the church. Volunteers come from St. Thomas, parents and the community.
A Caring Place for Children
We are offer an after school program for children in third through eighth grades, Tuesdays and Thursdays, 2:30PM - 4:30 PM. We provide an environment of nurture and care. Helping students feel good about themselves is the beginning of a journey in building self-esteem. Through various activities and with positive role models and consistent reinforcement of each student's self-worth, innate abilities and hope, goals and objectives can be met to make sure each student attains success.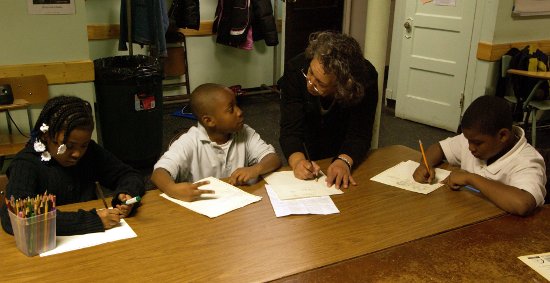 Students involved in this program will be expected to complete homework assignments with assistance if necessary. There will be tutoring as needed and a strong literature component.
Students attending the Homework Center will be respectful. Parents will be contacted if the student exhibits consistent disruptive behavior including inappropriate touching (no fighting), inappropriate language, disrespectful behavior toward adults, leaving premises without permission and theft of property or equipment.
Our director is Mrs. Sharon Briggs, former Academic Dean at Faulkner Elementary School.
Our Goals
To provide a safe haven for a positive atmosphere for students to study.
To provide meaningful and fun activities for student participation.
To assist students academically, socially, emotionally and spiritually.
To motivate students to excel to the best of their ability.
To increase student's sense of self-worth and self-confidence through positive role models.
To help students in specific academic subject areas.
To allow students opportunities to research projects as needed.
To reinforce good study habits.
To evaluate student progress.
To encourage parent participation through monthly consultations.
To develop a cooperative team effort with Horace Mann staff.
Activities
Tutoring in specific subject areas
Study skills
Dictionary skills
Computer skills
Math skills
Literature - Story telling to appropriate grades with discussion time. Orally reading classics together with discussion time. Reading and writing poetry.
Research skills
Evaluation Criteria
Students will be evaluated monthly based on the following criteria:
Attendance records
Homework file
Cooperative level
Participation level
Study skills development / improvement
Oral interpretation / discussion